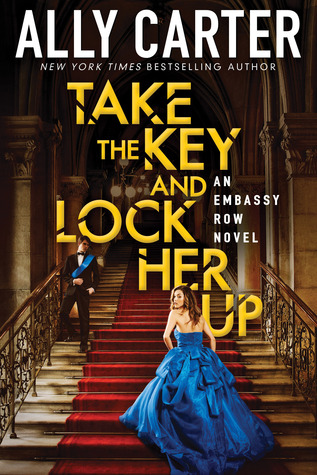 ---
Embassy Row by Ally Carter.
All Fall Down #1 (3/5)
See How They Run #2 (3.5/5)
Take The Key And Lock Her Up #3 (4/5)
Goodreads | Amazon #1 | Amazon #2 | Amazon #3

Grace Olivia Blakely witnessed her mother's death three years ago. People say it was an accident, but she knows better, she was there after all. Everyone believes she hasn't been exactly sane since her mother's death, and they'd be right. Just not for the reason one would think. She's haunted by that day, by the man with the scar on his face, by her mother's last words, and all she knows is that it wasn't an accident, problem is, no one believes her.
Being back in Adria three years after "the accident" is suppose to help Grace move on and start living her life again. But she can't, and most importantly don't want to forget what she saw, so when she sees the scarred man, who was there when her mom died, she promises herself that she will bring light to the true and show everyone what really happened. But maybe some things are meant to stay hidden.
"No! I need to go home," I say, but then the realization comes: My mother was my home. My mother is dead.
Grace isn't the best protagonist, she annoyed me to no end, it was truly frustrating being inside her head, she's stubborn and goes about everything the wrong way. Alexei, her love interest, wasn't that appealing to me at first, I didn't see anything happening between them, no chemistry whatsoever, I actually thought Noah was going to be the guy for her. Now the other characters I enjoyed; Noah, Megan and Rose are incredible. I loved seeing them interact with each other, they made this story so much better. And Grace was a lot more tolerable when they were around.
Friends help each other when they are…you know…going up international hit men and stuff.
The development in this story was surprising to me, after the first book I wasn't expecting to like the rest, and boy was I wrong. Everything evolved in a great pace and how everything unfolded was fascinating to read. The main characters from the first book doesn't seem like the same from the last one, they developed so much, Grace especially. By the end of the trilogy I was rather fond of her.
The romance aspect of the book didn't really appeal to me at first, but I found myself waiting to see more and more of them together as the story progressed. I was not disappointed, it was a very sweet and a little slow-burnish, which I absolutely adore. Alexei grew a lot on me, I love Russians characters so when I didn't care much for him in the first book I was a little disgruntled, but since the first time he appeared in See How They Run I was immediately more interested in him.
The friendships are the best thing about this series, I'm not gonna lie, I'm always more interested in the romance, but not this time, this time what motivated me the most to keep reading was their friendship and how much fun it was to read. Also, Noah and Megan are extremely adorable and I really wanted too see more of them together.
"Don't let the glitter fool you." She wiggles her shiny nails in the air, then taps her temple. "I'm up here"
"I see that," I say as Noah whispers a very soft, "I love you."
A few of the characters that showed up later in the story were wonderful; Jamie, Dominic, Karina, Thomas and even the King, no matter how little of him we got to see. These are some amazing characters that I enjoyed immensely, I wish there was more of them to be honest.
Ally Carter is a great writer, I love her style and I love her stories. But this trilogy is so very different from her other works, it's darker and somehow it still holds that innocence that's always present in her books. I was so pleasantly surprised by this, it made me enjoy it that much more.
When I got to the end of Take The Key And Lock Her Up I was smiling, I couldn't believe that this is what turned out of All Fall Down, it was so different and so satisfying. It was a wild ride and I was shocked to realize how much I had appreciated it, I was not expecting that and I'm really glad I didn't give up after the first book.