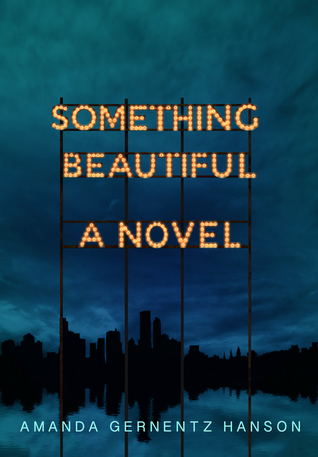 Something Beautiful by Amanda Gernentz Hanson.
Published: June 27th 2017.
Rating: 1.5/5
Goodreads | Amazon
Synopsis:
Cordelia and Declan have been best friends since they were three years old. By the time they hit middle school, Cordelia—Cord, to Declan—is already feeling the blackness in her life as depression takes hold. Their mutual attraction to each other leads to a serious high school relationship, one with their foundation of friendship at the forefront. Cordelia seems to have her mental health under control. All appears to be well. 
However, when Declan starts to accept his own fluid sexuality, it sets something in motion in their lives that is both beautiful and tragic as they learn to love each other for who they are.
My Review
I received this book via NetGalley in return for an honest review. Spoilers ahead.
Trigger warnings: self-harm, depression, suicide attempt, shooting, death.
Okay, I have conflicted feelings about this book. I was super excited when I was approved for this arc, and the blurb was so interesting. So maybe that was my mistake, creating too much expectations.
The book follows two best friends Cordelia and Declan, they both have issues of their own to sort through and are just learning who they are in life and how to navigate through it. So first they're best friends, then they're boyfriend and girlfriend, then they go back to best friends, then they get married. Yeah, that kinda felt like all over the place, but let's get more into it.
We have our characters, who have been best friends since they were three years old, suddenly Cordelia's father gets a job in England and they have to move away temporarily. When she comes back, she's not herself anymore, she's been depressed and harming herself. After telling Declan about this, he asks her out, which to me seems like a horrible idea, but okay, she says "I just… don't even love me. How can I promise to love you?" and I was almost slow-clapping but then in the next page they decide to date anyway so there's that.
Everything is fine for a few years, until Declan stars questioning his sexuality, he then breaks up with Cordelia and explains to her that he's gay. That unleashes her depression again, since it was never really dealt with, and she attempts suicide. After that, it's brushed over her recovery, and we only know bits and pieces. Then flash-forward a year later and she has a new boyfriend and she even picks the same university he studies at to be closer to him. Declan gets protective, but that's it, he moves to New York and she goes to California. They're still best friends though.
Flash-forward again a few years and she finds out she's pregnant with her boyfriend's baby, but on his way to the doctors appointment he's in a car crash and dies later on. When Declan comes to California to support his friend, in first day back he kisses her again and confuses her further with the whole situation because to her he was gay, and to him he didn't understand what was happening but he knew he was in love with her.
Okay, quick recap: she's recently found out she's pregnant, her boyfriend died, her best friend is once again in love with her after breaking up with her for being gay. Yes, that's what we have so far.
They decide that Declan will move and help her through this situation, so he drops out of college and gets a job to help support her. They talk more about his sexuality and he tries to explain to her the best he can that not everything is black and white, that sometimes you have a genre preference but that doesn't mean you can't be attracted to another. He isn't happy with his life though, so she tells him to go back to New York and follow his dreams. Their relationship is long distance for a few years, and here's where they start facing their issues; she can't fully comprehend him and it's afraid he'll realize she's not what he wants again, she's also still trying to move on from her deceased boyfriend, he's battling with the long distance and how to help her see that he's madly in love with her.
After a particularly bad fight about said issues, he cheats on her with Peter the guy from the bar, then immediately feels guilty and goes to see her. They talk it out and apparently fix all of their problems. They sleep together and she gets pregnant. Everything is perfect until flash-forward a couple of years again and they're at a rally, where someone shoots her and she passes away.
Now look, I wouldn't be too frustrated if that's how it ended, but the night Cordelia dies, Declan asks Peter – one night stand, turned best friend – to stay with him "She just died, Declan. Don't you think it would be a bad idea for me to stay?" how the fuck did they jump to that again after years of being supposedly only best friends? she literally had just died! It felt like he was just waiting for something to happen to finally have what he wants, that being Peter. It made their love – Cordelia and Declan – cheap and I was just done with the whole thing. Then in the epilogue we see that they became life partners and it just enhanced all of my bad feelings towards this situation since there's no real plot other than their love story.
The book started out strong and I was very invested, but the author didn't know how to handle it, the delivery was lacking in depth and the representation was flawed. It never went deep into the issues that should've been key points in the plot, key points, not plot device. It could've been a great book though.