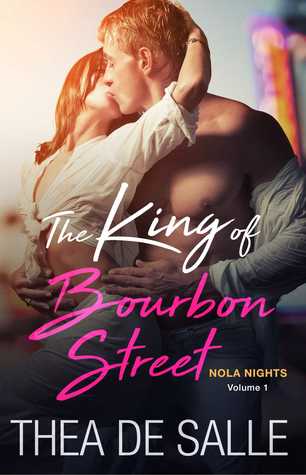 The King of Bourbon Street (NOLA Nights #1) by Thea de Salle.
Published: February 13th 2017.
304 pages.
Rating: 5/5
Goodreads | Amazon
Synopsis:
Hotel chain mogul Sol DuMont is about to learn that some of life's biggest surprises come in deceptively small packages—namely a petite heiress named Rain who's hell-bent on upsetting her family's expectations—in this first book in the all new series by Thea de Salle, set against the sultry backdrop of New Orleans.
Thirty-seven-year-old Sol DuMont is a divorcee and the owner of a mid-sized hotel chain in New Orleans. Since Hurricane Katrina, his father's death, and the decision that he and his ex-wife Maddy are far better off friends than lovers, he's lost interest in almost everything he held dear—parties, people, and pushing limits.
All his limits.
Then Arianna Barrington checks into his hotel.
Twenty-four-year-old Arianna "Rain" Barrington could have been society's sweetheart. Her family is moneyed, connected press darlings, and make sweeping headlines from coast to coast for reasons both good and bad. But when her mother shoves her at Charles Harwood—the obnoxious, entitled heir of Harwood Corp—to cement a billion-dollar business merger, Rain does the only thing she can think of to escape: she creates a scandal so big Harwood doesn't want her anymore before fleeing to New Orleans for much-needed rest and relaxation.
All she wants is jazz piano, beignets, and to sail the Mississippi. What she gets is Sol DuMont, a whirlwind affair, and a hands-on education in sex, power play, and pushing limits.
My Review
Appreciate her, she said. That I can do. Love her? I bet I could do that, too.
There is not one thing about this book that I didn't love. The story follows hotel chain mogul Sol DuMont and heiress Arianna "Rain" Barrington, after his father's death Sol has lost interest in the things that usually made him happy—his then-wife, parties, friends—and even though with the help of his best friend Cylan he managed to get out of the black whole he found himself in, he was still apathetic towards the world. Until he meets Rain, that is.
The connection between those two characters is undeniable, Sol is finally excited about something in his life and Rain is just happy to be away from her mother's manipulating hands. It's so sweet to see their relationship develop, their dynamic is fantastic and the bdsm is just right for me, nothing too dark and with humiliation, etc. but if dom/sub relationships aren't your thing, maybe rethink reading this. BUT IT'S HONESTLY SO INCREDIBLE PLEASE READ IT.
Rain is adorable, quirky, beautiful in every way, and she's also the most relatable protagonist I've ever read, I found myself identifying with her words and thoughts, and it made me love the story even more than I already did. I also loved how she's unapologetic about her size and what others might think of her body, she never sees her body in a negative light. It was exhilarating to see a fat protagonist who's truly happy with herself.
"I like how you are. So you have quirks. All the most interesting people do." 
Not only the main characters are incredible, but the secondary characters are so important as well. I loved Maddy and I'm so glad she got her own book so we could see more of her, I do want to see more of Cylan and Vaughn though, like can we pretty please have a book for them? Individually *whispers* or maybe together? I DON'T KNOW I JUST REALLY LOVE THESE CHARACTERS! I need a book for each one of them!
Overall if you're looking for an erotica you should definitely pick this up, it's literally the best one I've ever read; it has great characters, amazing fat rep (whoever tells me it's fetishizing to call fat women beautiful can choke), hot as hell sex scenes, and incredible writing. I am so in love with this book, please do yourself a favor and pick this up.