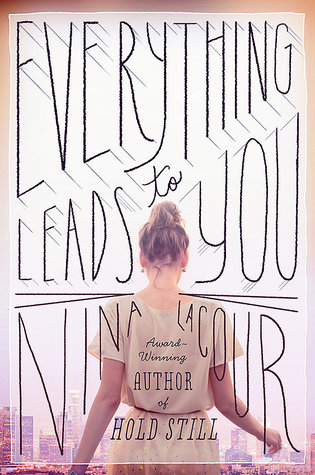 Everything Leads to You by Nina LaCour.
Published: May 15th 2014.
312 pages.
Rating: 2.75/5
Goodreads | Amazon
A wunderkind young set designer, Emi has already started to find her way in the competitive Hollywood film world.
 
Emi is a film buff and a true romantic, but her real-life relationships are a mess. She has desperately gone back to the same girl too many times to mention. But then a mysterious letter from a silver screen legend leads Emi to Ava. Ava is unlike anyone Emi has ever met. She has a tumultuous, not-so-glamorous past, and lives an unconventional life. She's enigmatic…. She's beautiful. And she is about to expand Emi's understanding of family, acceptance, and true romance.
My Review
This is only the second book I've read from this author, the other one being You Know Me Well, which was co-written with David Levithan, as I'm not the biggest fan of that book I wasn't sure what to expect from this one. In some ways, you can find a similarity between these stories, but generally, they're completely different.
The story follows Emi, an aspiring set designer who works on movie sets alongside her her best friend Charlotte. They find themselves at an estate sale looking for some pieces to put on a set when they come across a letter from an old, Western, Hollywood star. The letter unchains a series of events sending them into a journey to unravel the mystery surrounded the letter.
The book started out strong, and I really enjoyed seeing Emi and Charlotte trying to make sense of the letter and figuring out what to do next. Another aspect that I liked seeing was the dynamic of Morgan and Emi's relationship, because it's a situation that I believe we all go through at least once in our lives—this on and off vicious cycle—and it was never painted as a good thing, LaCour made sure to point out how toxic it is while still showing us how very accurate Emi's reactions towards Morgan are.
The development is where I start having problems with it. After the protagonist follows the clues in the letter leading her to Ava, the book hits a standstill for quite a few chapters. Nothing interesting happens, they're just living and that's it. By this point Emi's also trying to move on from her relationship with Morgan, but it feels very unrealistic in a way that, she's been trying for a long time and her best friend keeps trying to help her, but then after she meets Ava she decides Charlotte is right and suddenly she's over Morgan and ready to move on, the only thing holding her back from jumping right into another relationship is her best friend/moral compass, so thank you, Charlotte.
Even though the book started out captivating, it still didn't hold my attention for very long. It's not that it's a bad book per se, it's just not great. I realized that the writing style really isn't for me, I found it to be lacking and very bland. If you're looking for cute f/f young adult, I do believe there are better ones out there, but despite the book not working for me, it could work for you.