Calendar Girls is a blog event hosted by the bloggers Melanie Noell Bernard and Flavia the Bibliophile, inspired by Neil Sedaka's 1961 song Calendar Girl. Just like in the song, they decided to use a specific theme for each month and choose a book based on these themes! The event is meant to incite discussions with other bloggers about books we've read and loved, to help bloggers interact with other bloggers, and also for bloggers and readers to find out about blogs which they normally may not have come across! If you'd like to know more you can check here and here.
October's theme is 

Best Paranormal Novel
This genre used to be a huge no for me, although I didn't really have a reason for disliking it, I just didn't want to be like everyone else and love vampires and werewolves and omg angels. Oh my younger self, so stupid and naive. Fast forward a few years and I'm almost the poster child for this genre… okay, not really. But I love it so much *whispers* especially the paranormal romance, I'm a hopeless romantic, what can I say?
This month I'm going to try and not make a list of books that I love from this genre because it must be really annoying for you guys, so I'll contain myself this time around. Without further ado, my top pick is…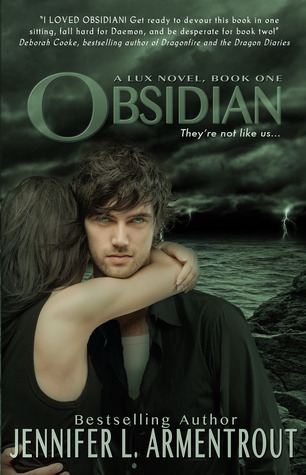 Obsidian (Lux #1) by Jennifer L. Armentrout.
Okay, in all fairness, this isn't exactly my favorite paranormal novel, but I just had to give it to Obsidian, if nothing else, because of how surprising it was that I loved it as much as I did.
When I saw this series here and there I always rolled my eyes, I mean, seriously? aliens? *scoff* but boy did I eat my words. Truthfully, this was so entertaining and the plot is actually fantastic! Plus, this was the book that finally made me own up to my love for paranormal romance and stop referring to it as a guilty pleasure and being low-key embarrassed of liking it.
So here are some reasons for reading this series asap:
✓ Haters to lovers trope !!!!!!!!!
✓ Katie is so freaking relatable, I mean, she's a book blogger you guys.
✓ Aliens vs humans.
✓ Jennifer L. Armentrout can do no wrong, I love her stories so much!
How proud are you that I managed to only mention one book? This is a miracle, people! But there you have it! Let me know what you think of Paranormal Novels/Romance!
What about you guys? What's your favorite Paranormal Novel?