Calendar Girls is a blog event hosted by the bloggers Melanie Noell Bernard and Flavia the Bibliophile, inspired by Neil Sedaka's 1961 song Calendar Girl. Just like in the song, they decided to use a specific theme for each month and choose a book based on these themes! The event is meant to incite discussions with other bloggers about books we've read and loved, to help bloggers interact with other bloggers, and also for bloggers and readers to find out about blogs which they normally may not have come across! If you'd like to know more you can check here and here.
July's theme is

Best Fairytale Retelling

, and my pick is: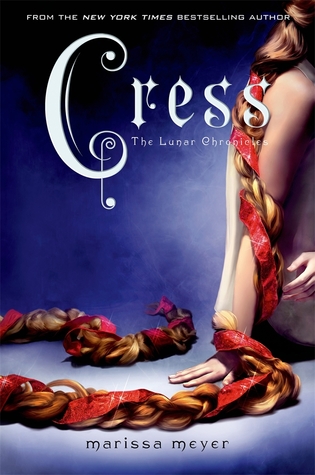 Cress (The Lunar Chronicles #3) by Marissa Meyer.
Oh my goodness! It was so hard to pick just one book this month. One might argue that I'm a little too into fairytale retelling for an "adult", but frankly I don't give a damn because they have so many incredible books, I swear to God.
So after a lot, and I mean A LOT, of back and forward between books, I've finally settled on Cress. This isn't particularly best book from this category, because let's face it there are some breathtaking books out there — I'm looking at you The Forbidden Wish —, but it is a favorite to me for the following reasons:
• Cress is probably one of my favorite characters of all time;
• This book is so much fun, I laughed nonstop;
• THORN IS MY BABY DON'T TOUCH ME;
• I loved seeing the dynamics and how it developed;
Still, I get it that it all feels very generic to be considered the best. But for some reason, inexplicably to me really, I hold this book close to my heart, I find it so beautifully written and developed, with relatable characters, even though I could never relate to their awesomeness!
Okay, now I feel like I should at least mention some of my other favorites that could totally have been my pick:
• The Forbidden Wish — I already mentioned this one before, but let's do it again because honestly, just go pick up this masterpiece guys! + review
• Peter Darling — SO SO LOVELY! + playlist
• A Court of Mist and Fury — Yep, I'm totally not bringing up the first or last book because we all know this one was the best out of the trilogy. Except for the Elriel scenes in ACOWAR because babies!!!!
• Walking On Knives — This one isn't out yet but I'm putting it here anyways since I'm super excited about it because 1) THE LITTLE MERMAID and 2) f/f romance.
So this is it! What about you guys? Do you love fairytale retelling as much as I do? What are your favorites?
twitter • goodreads • tumblr • pinterest